St. Armand's Circle has wonderful shops and restaurants to enjoy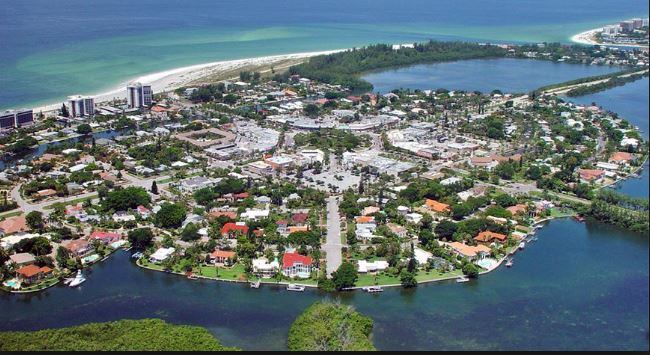 SEARCH SAINT ARMANDS CIRCLE AND SURROUNDING AREA NOW CLICK HERE
St. Armands Circle is named for Frenchman Charles St. Amand and John Ringling imagined St. Armands Key as the jewel of Sarasota when he purchased it in 1917. The circus tycoon envisioned residential and shopping units that would take the form of a circle. He worked to bring the vision to fruition in the 1920s.Today, the shopping district is the jewel that Ringling once imagined; it draws shoppers and diners from around the world. It is home to 130 businesses, including boutiques, shops, restaurants, galleries, salons and more.
If you're in the mood to shop, you'll find high-end men's and women's fashion and accessories, jewelry, one-of-a-kind art, décor and gift items, antiques and a variety of specialty selections. The Circle is an ideal place for a day trip: After shopping, get pampered with a massage, hair appointment or manicure. Finish the day with dinner or cocktails at the Circle's many restaurants. You will still find reminders of Ringling throughout the Circle. Ringling's historic statues, along with newer statues that include the "Seven Virtues of Sarasota" are located throughout the Circle and St. Armands Key. The Circus Ring of Fame in St. Armands Circle Park also honors Sarasota's circus tradition. It is like the Hollywood Walk of Fame for circus performers and contributors; each year the Circus Ring of Fame Foundation inducts new members.
The majority of stores are open by 10 a.m. Monday through Saturday, and all stores are open by noon Sundays. Most stores stay open until 8 or 9 p.m. Breakfast restaurants are open by 7 a.m. seven days a week, and other restaurants are open 11 a.m. to 11 p.m. seven days a week. The Circle is also home to many can't-miss events, such as Halloween "Fright Night on St. Armands" and Holiday Night on St. Armands.